Many people who are looking to sell their homes ask me this great question all the time. "When is the best time to sell my home?" And my answer? In today's market, the sooner you can sell, the better!
In Puyallup, we are still experiencing a shortage of available homes, with only about a three month supply of inventory. New listings have been receiving immediate attention and activity, and if a home is priced correctly, its chances of receiving an offer soon after hitting the market are excellent! Are you wary of selling because your home needs a bit of updating? Good news on that front, too— Puyallup is experiencing a "perfect storm" right now in that anything and everything is being snapped up.
Because of the lower inventory, sellers have a better chance of selling more quickly and for top dollar. When there's a lower inventory, there's less competition overall (and in Puyallup right now, this means less competition from newer homes, too!).
If you're thinking of selling your home, definitely explore the benefits of doing so now. As always, feel free to give me a call (253-380-7702)— I can empower you with the information you need to make the best decision for you and your family!
For more information, visit Erin Dobrinski at ErinDobrinski.com or e-mail me at edobrinski@windermere.com.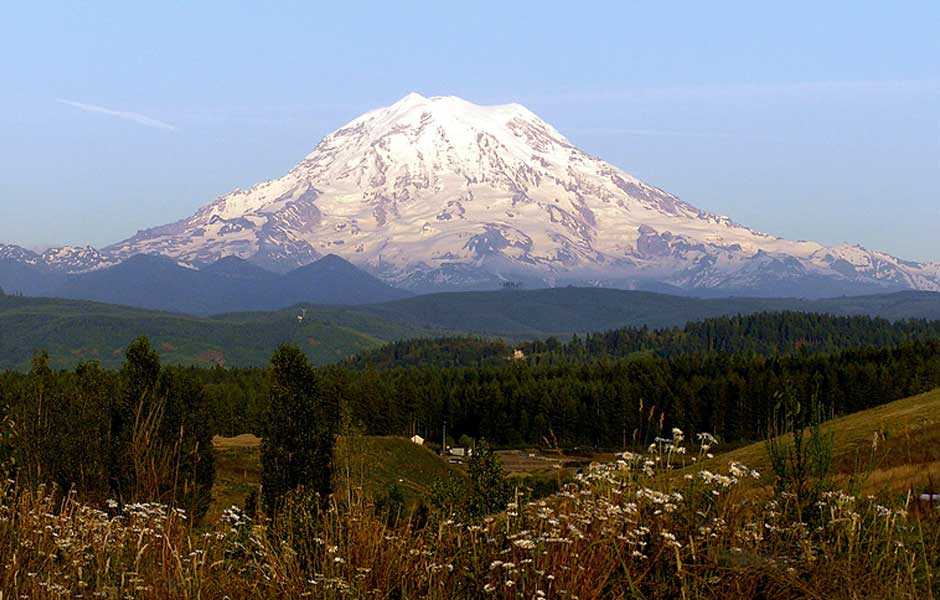 I have been surprised and delighted to receive comments from readers thanking me for sharing statistics in a reader-friendly manner, plus requesting that I keep the updates coming.  OK, so here are Trendgraphix April stats for Puyallup:  for short sales, there are 127 active short sales, 24 pending shorts and only 9 closed sales in April.  This is a measurable decrease in all short sales categories, particularly the closed transactions.  Not sure why, but I will be investigating.  Bank-owned stats stayed pretty similar, i.e. foreclosed properties are selling quickly! April shows more traditional sale homes listed – very typical for this time of year – and fewer pendings than the previous month, fewer closed sales for traditional sale properties.  I found that surprising, since the market remains busy and I, on a personal note, have closed mostly traditional sales (versus shorts or bank-owned sales) this past month.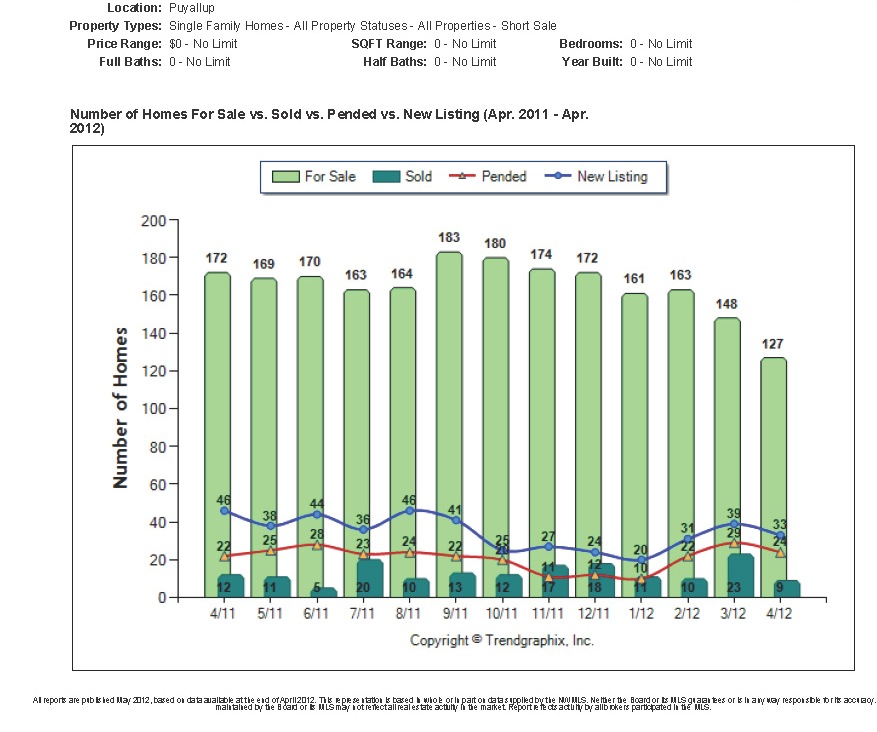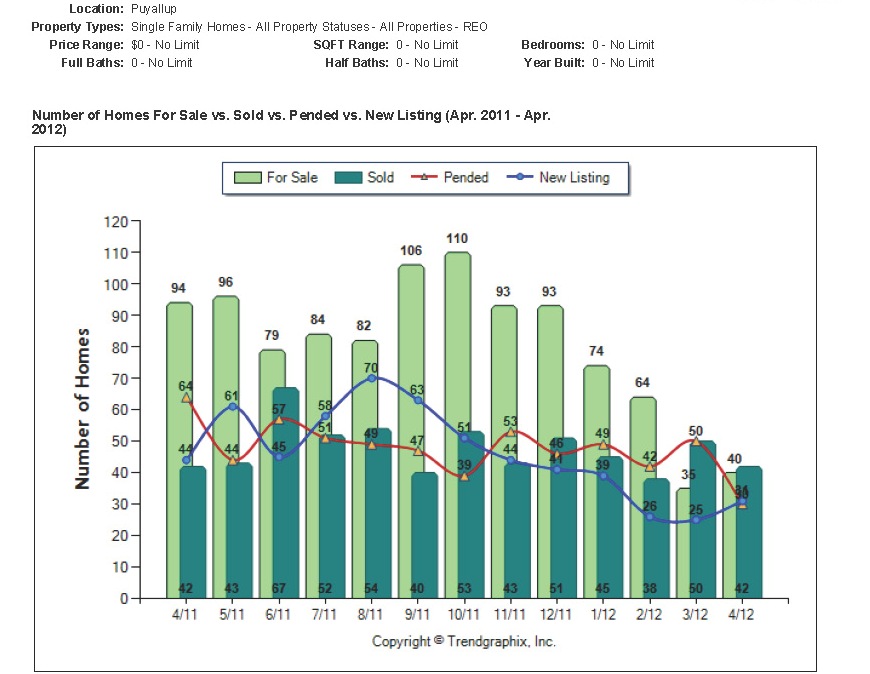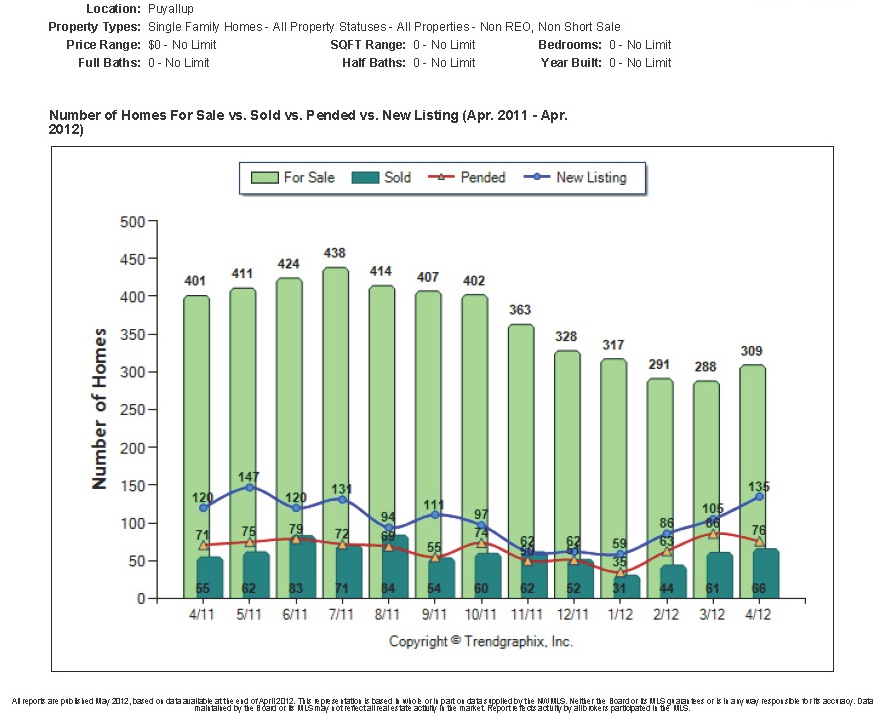 Posted on May 29, 2012 at 3:38 pm
Erin Dobrinski
Category:

Puyallup, Puyallup Stats, Uncategorized
Tagged

bank owned properties, Erin Dobrinski, for sale, for sale in puyallup, home sales, Puyallup, puyallup bank owned, Real estate, real estate in puyallup, short sales in puyallup, stats for puyallup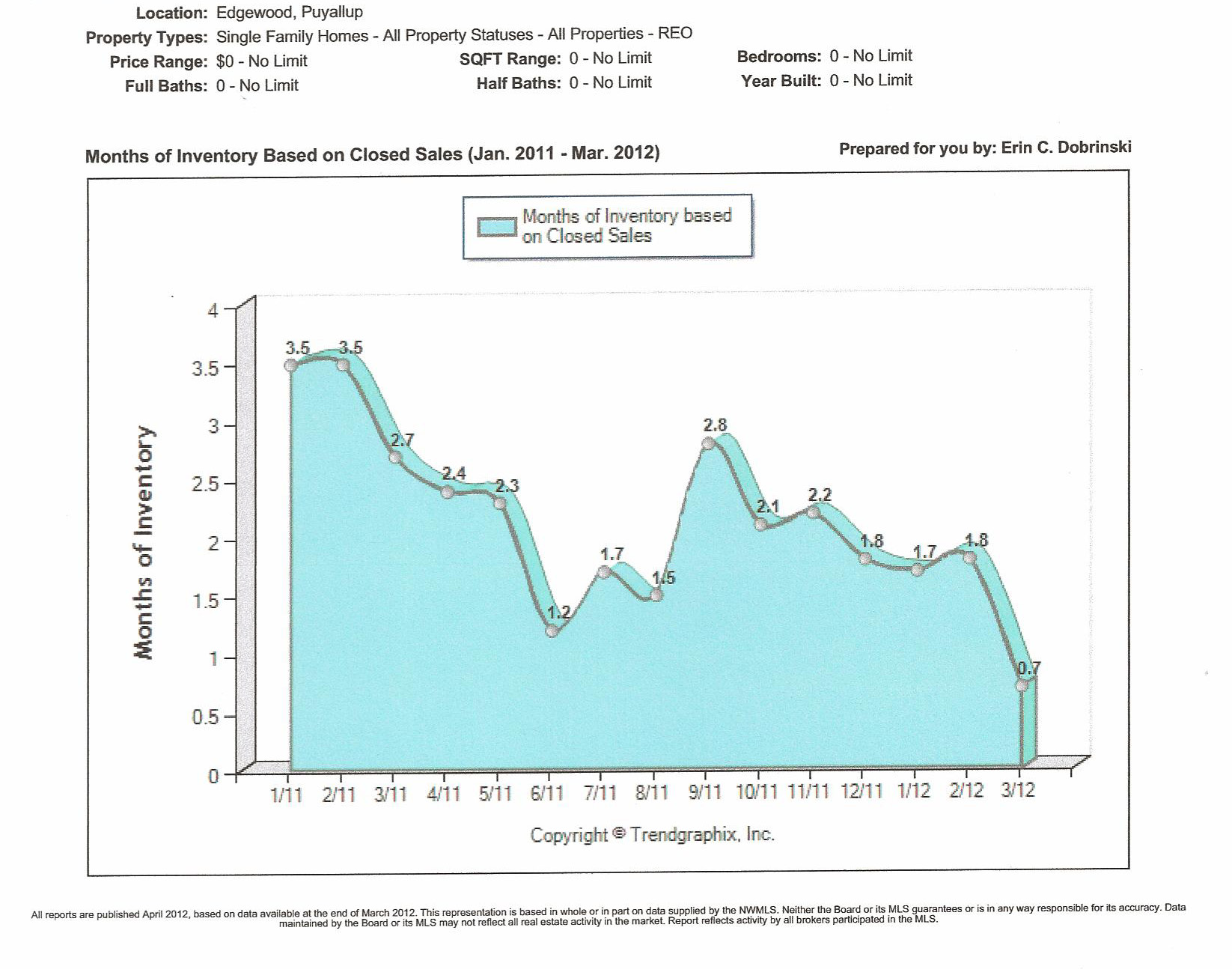 Well, it's clear that the bank-owned properties are winning when it comes to statistics of how quickly homes are selling in Puyallup (including Edgewood).  March stats show 37 active bank-owned properties (about 1/16 of the market of all 518 active properties in Puyallup), 59 pending bank-owned homes (those that have caught offers and are waiting to close the sale); and 52 sold/closed bank-owned homes.  Average price per square foot for these homes is $81; average days on market is 68, and average sales price is $163,000.  There is less than a one-month inventory of homes, meaning that they all sell fast!  Bank owned properties are a great choice, but they do have their unique characteristics (priced compellingly, often times multiple offers, many are cash-only or able to be financed only with a rehab loan, etc.). If you'd like more information about purchasing a bank-owned home, please give me a call!