I have been surprised and delighted to receive comments from readers thanking me for sharing statistics in a reader-friendly manner, plus requesting that I keep the updates coming.  OK, so here are Trendgraphix April stats for Puyallup:  for short sales, there are 127 active short sales, 24 pending shorts and only 9 closed sales in April.  This is a measurable decrease in all short sales categories, particularly the closed transactions.  Not sure why, but I will be investigating.  Bank-owned stats stayed pretty similar, i.e. foreclosed properties are selling quickly! April shows more traditional sale homes listed – very typical for this time of year – and fewer pendings than the previous month, fewer closed sales for traditional sale properties.  I found that surprising, since the market remains busy and I, on a personal note, have closed mostly traditional sales (versus shorts or bank-owned sales) this past month.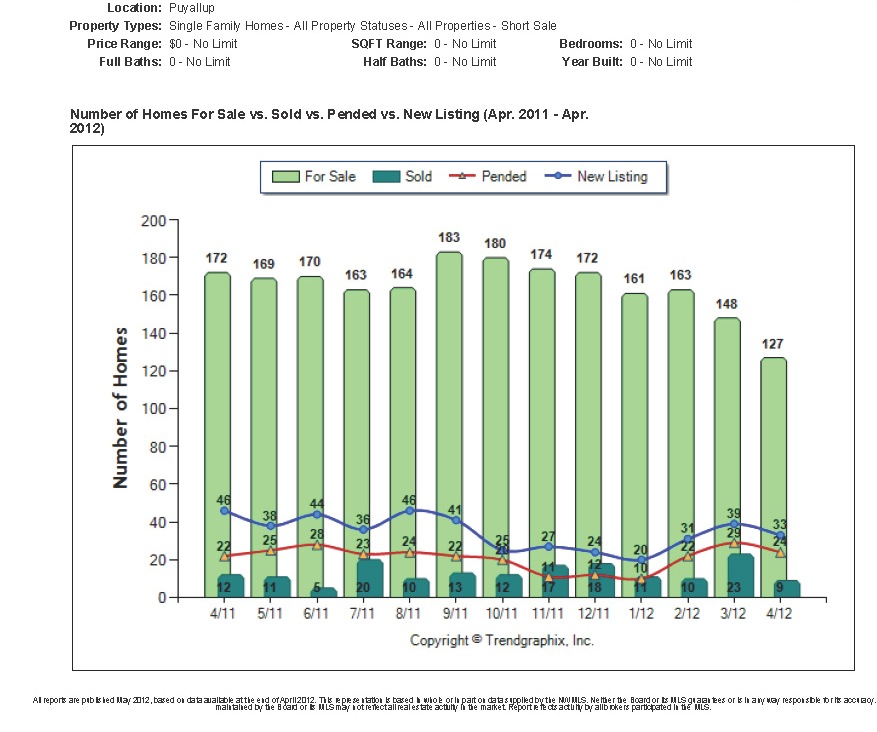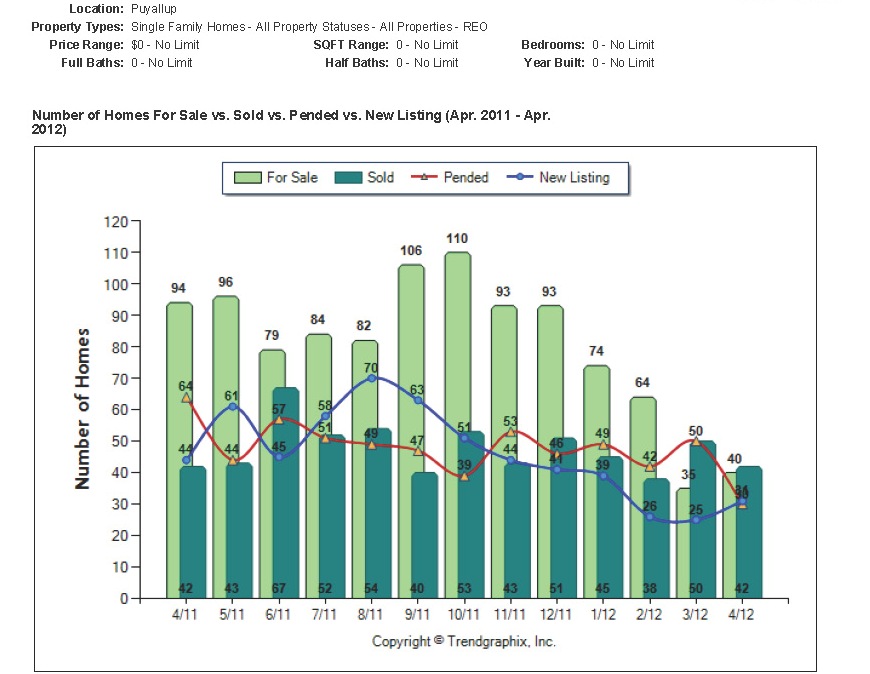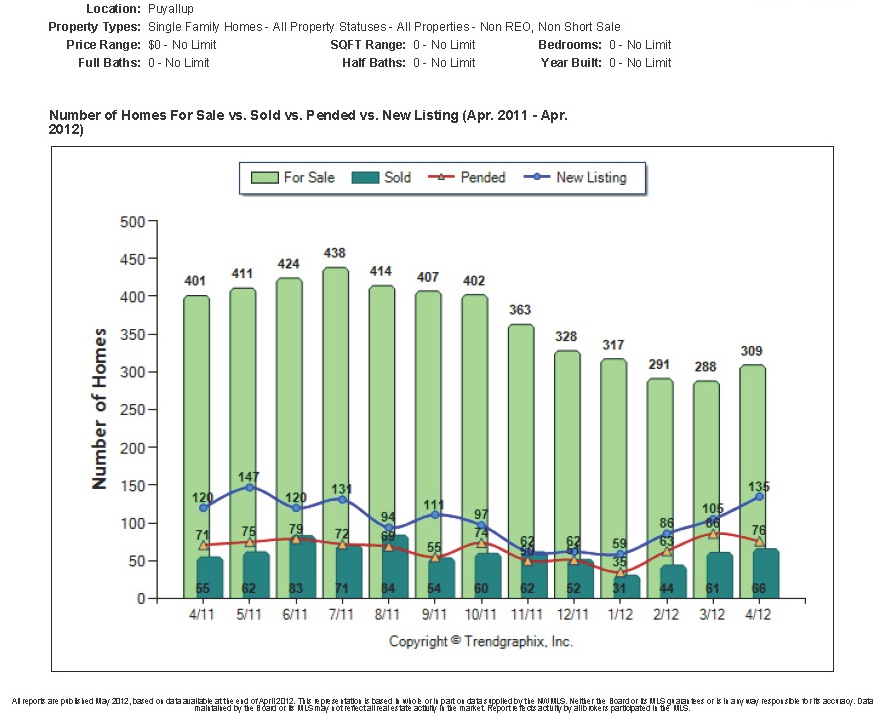 Posted on May 29, 2012 at 3:38 pm
Erin Dobrinski
Category:

Puyallup, Puyallup Stats, Uncategorized
Tagged

bank owned properties, Erin Dobrinski, for sale, for sale in puyallup, home sales, Puyallup, puyallup bank owned, Real estate, real estate in puyallup, short sales in puyallup, stats for puyallup
I have lots of clients who call and say "I want to buy a short sale".  My response always is: " Short sales are a great option, but not always a great fit for every buyer, in light of their goals. Why do you want to buy a short sale? And let's talk about your goals."   The most recent statistics (March 2012) show that there are 158 active short sale properties listed in Puyallup (including Edgewood).  Stats also show only 28 pending short sales in March and even fewer – 23 – closed this past month.  Not very good odds, unfortunately – about 1 in every 6 are actually closing the sale.  Also, most listing prices for short sales are not bank-approved prices, so there's no guarantee about the attractive price tag.  On a positive note, the majority of my clients who have chosen to purchase a short sale home have been successful – they just require some flexibility and a lot of patience! For more information about short sales, please give me a call!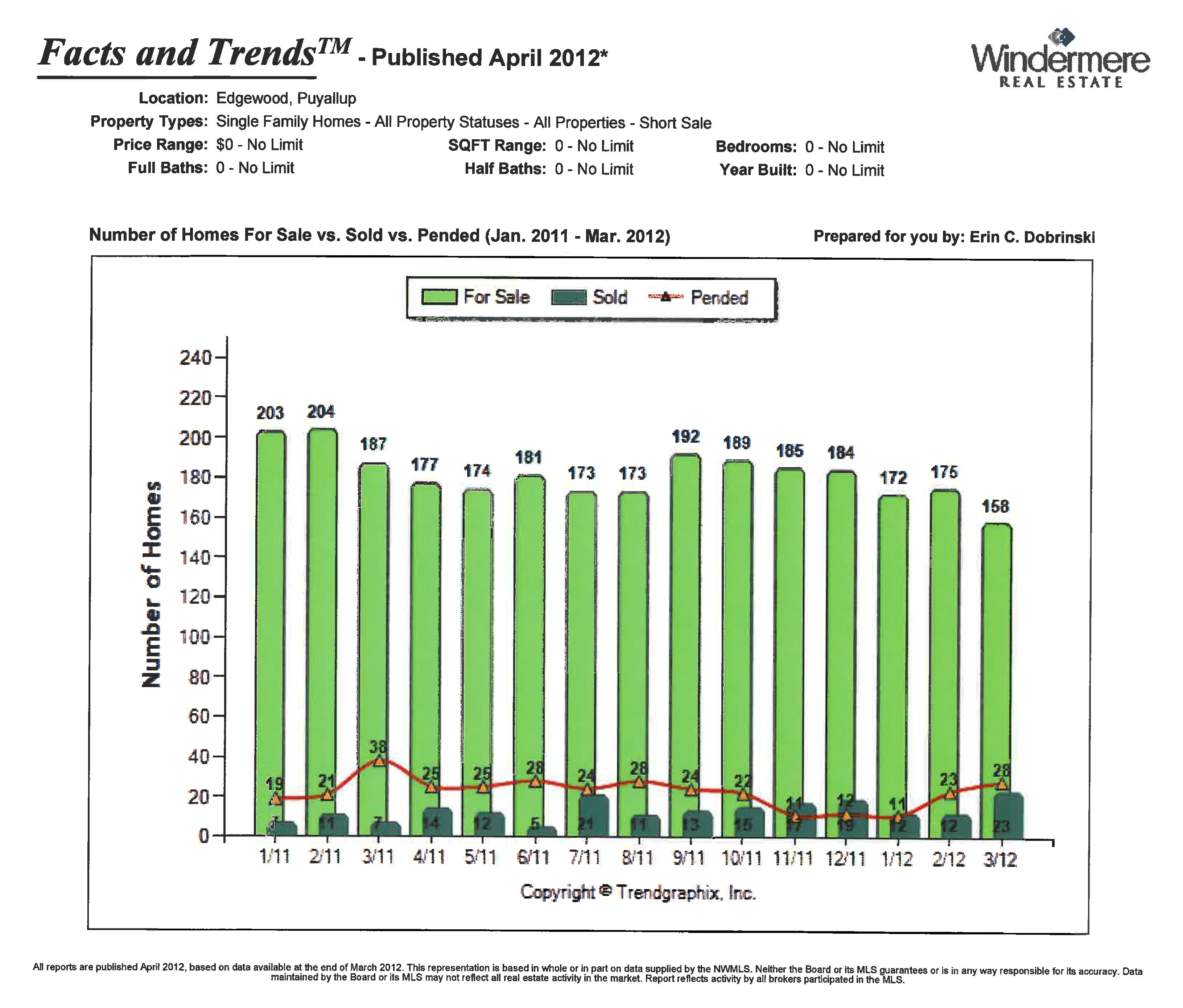 Posted on April 27, 2012 at 6:10 pm
Erin Dobrinski
Category:

Puyallup, Puyallup Stats
Tagged

for sale, Puyallup, puyallup bank owned, puyallup home sales, puyallup real estate, puyallup short sales, Real estate, short sales, short sales in puyallup