Welcome home to comfortable and convenient living, all in a picturesque setting! Nestled on a private 0.8-acre property that includes a storybook creek running in the back, this spacious 2,269-square-foot home is an absolute dream! Ample space both inside and out ensure you have plenty of room to relax and play, and this 4-bedroom, 2.5-bath home even comes complete with A/C, a sprinkler system, a 3-car garage, RV parking, and is sewer connected. Located at 2306 34th St SE Puyallup, WA 98374 and close to schools, shopping, restaurants, commuting options and more, this dynamic package is listed for $435,000.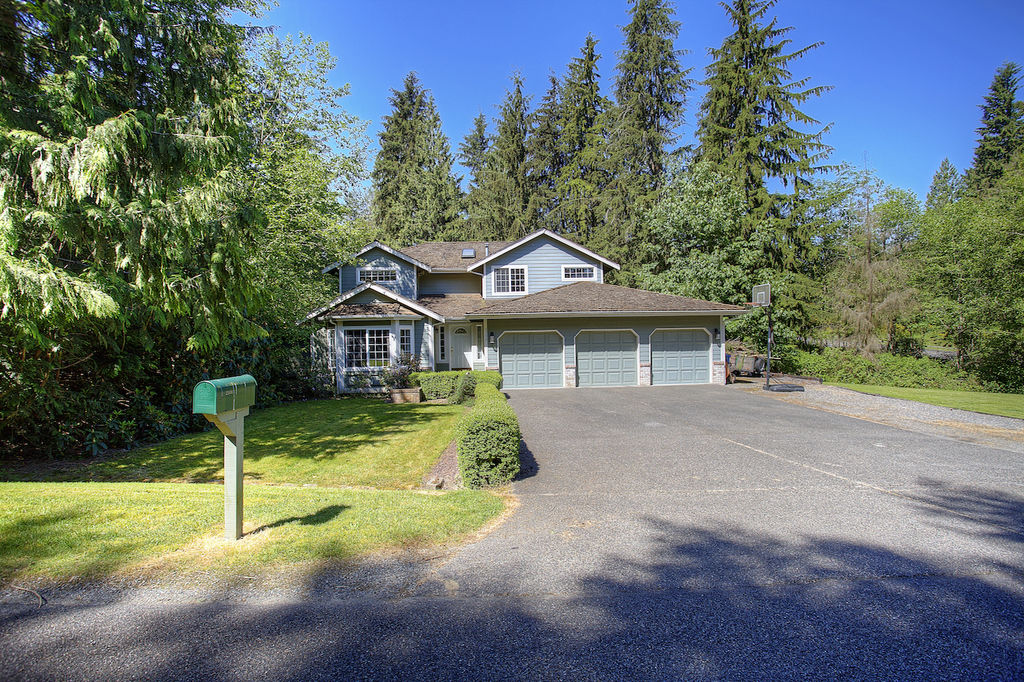 From top-notch indoor amenities to its gorgeous outdoor setting, this home has it all! If you love spending time outside, this home's backyard oasis is ready for you to start exploring and transforming it into your ultimate dream space. When you arrive home, a large driveway leads to a 3-car garage, while lush landscaping and tall emerald trees in the background frame this classic home. In the sprawling backyard, discover a huge deck that's perfect for entertaining and relaxing. Whether you're hosting a lively barbecue or simply unwinding on a comfy lounge chair, this home's private, forested view can't be beat! A carpet of green grass extends to a lush, natural area, where a scenic creek meanders along. Whether you envision a play toy or garden beds overflowing with flowers, fruits, and veggies, there's room for it all!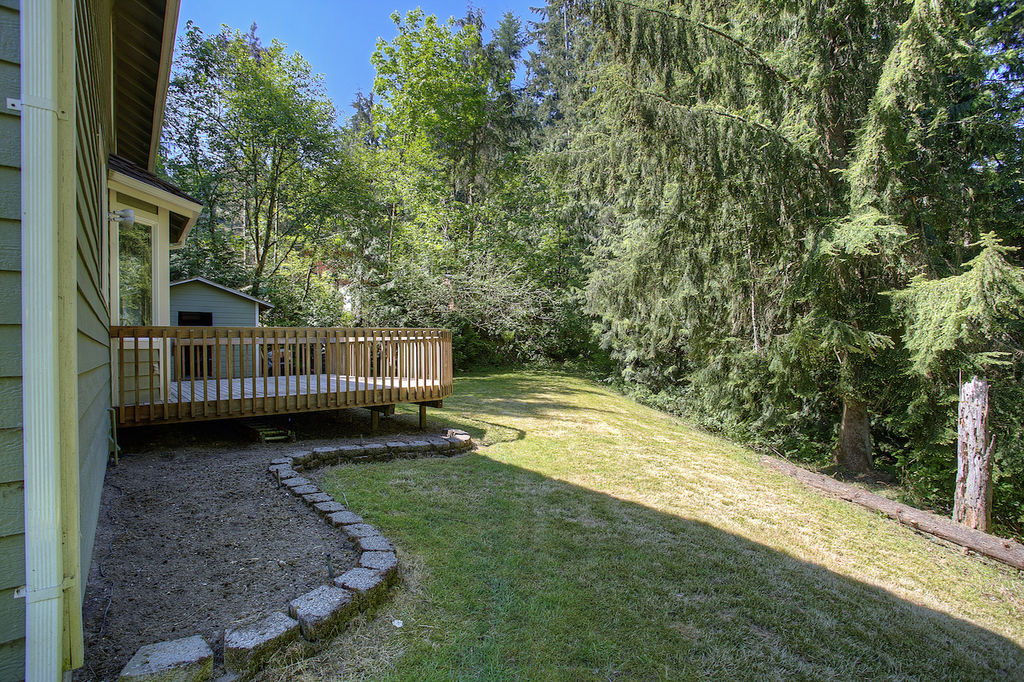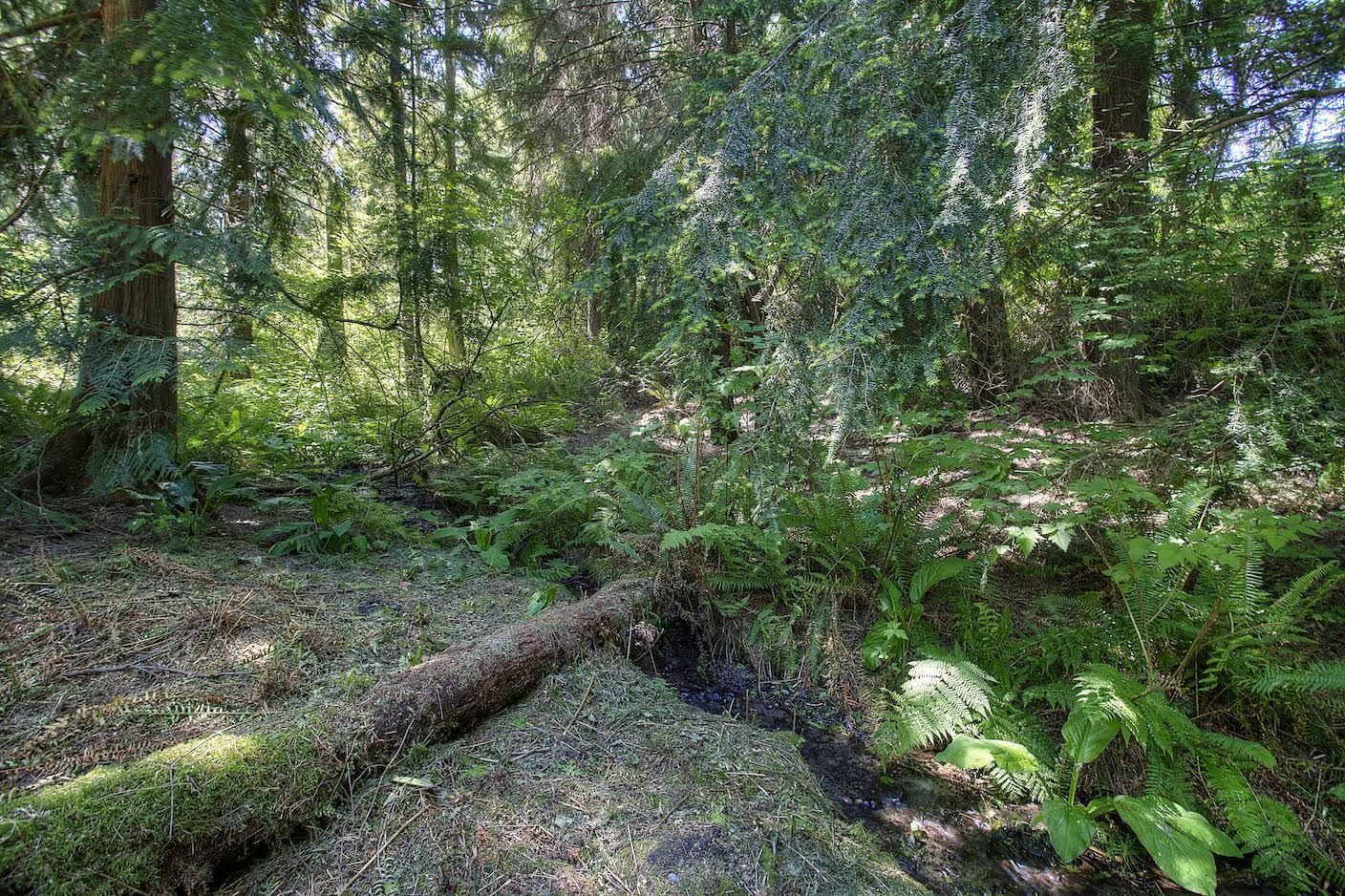 Boasting a palatial 2,269-square-foot layout that's ideal for everyday living and entertaining, this home welcomes you in through the front door with hardwood floors, vaulted ceilings, and eye-catching accent walls. Plush carpets in the formal living room lead right into the formal dining room, providing plenty of elegant space for hosting holiday get-togethers, special occasions, and dinner parties! Large windows provide bright natural light while offering lovely views of the greenery outside.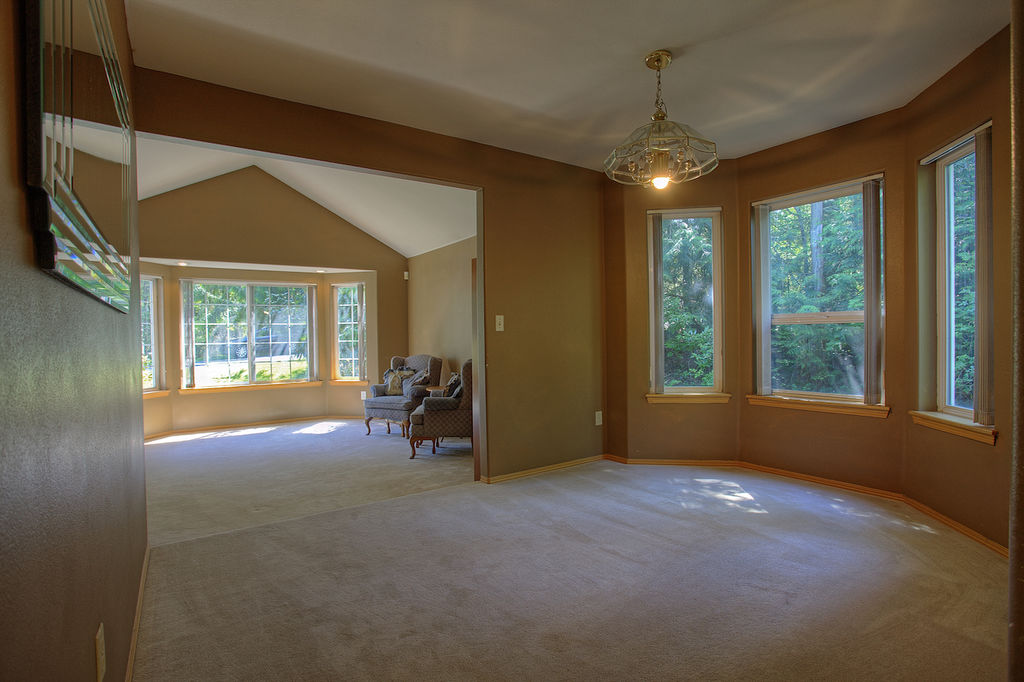 At the back of the home, a sprawling great room features a huge kitchen, a sunny dining nook with deck access, and an inviting family room. The kitchen shows off smart design and a large layout to take advantage of. Tons of cabinets and countertop space ensure there's plenty of room for storage and meal prep, and there's even additional bar-style seating at the counter. When it's time to settle in for the evening, the adjacent family room offers a warm and welcoming scene! A stately fireplace rests at the center of incredible floor-to-ceiling wood detailing, and cozy movie nights while a fire dances in the background are the perfect way to spend a laid-back evening!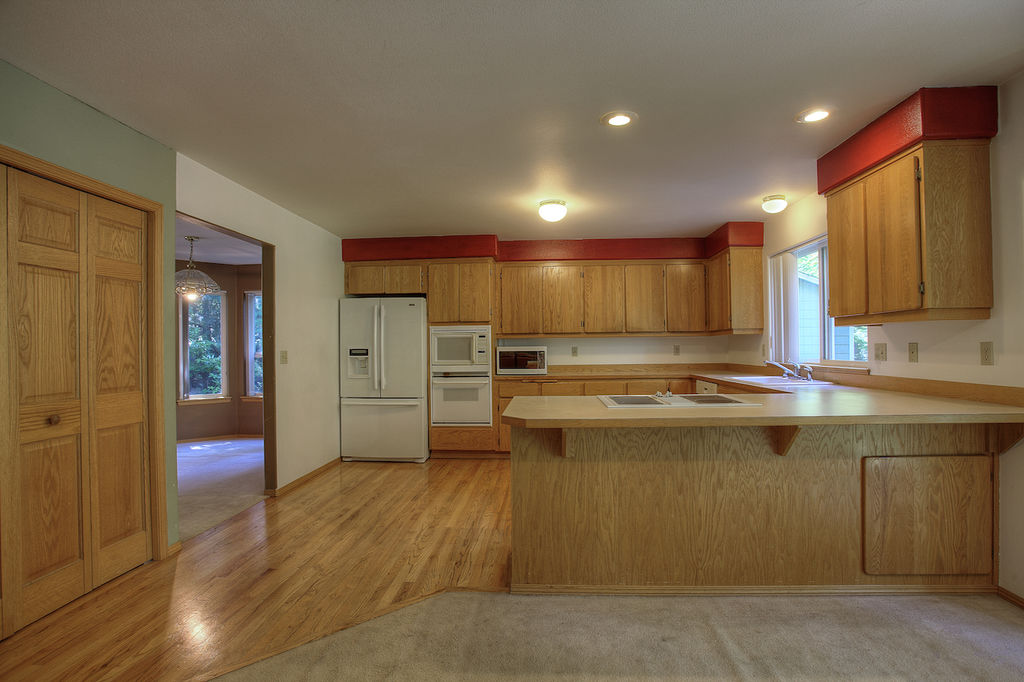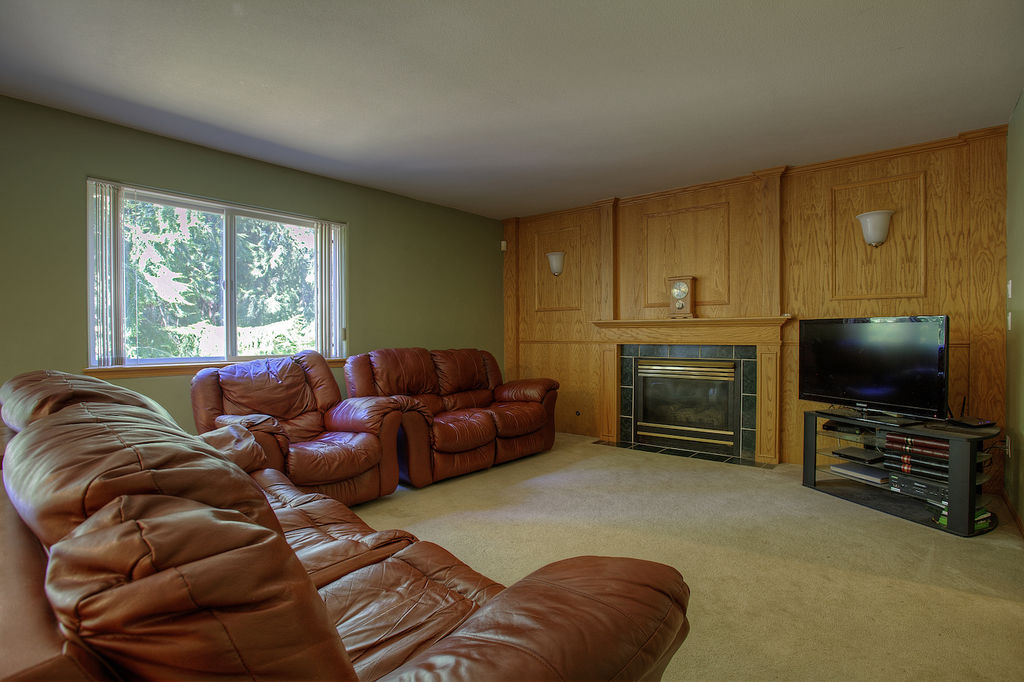 Journey upstairs to discover this home's 4 versatile bedrooms, each one offering loved ones a private space to retreat to. The expansive master suite is especially of note—featuring exquisite vaulted ceilings and large windows that fill the space with cheerful natural light, the master suite is a haven you'll love spending time in! There's even a huge, dreamy walk-in closet, and a fabulous ensuite bath complete with a soaking tub. Imagine indulging in a fabulous bubble bath as you rejuvenate in peace and quiet!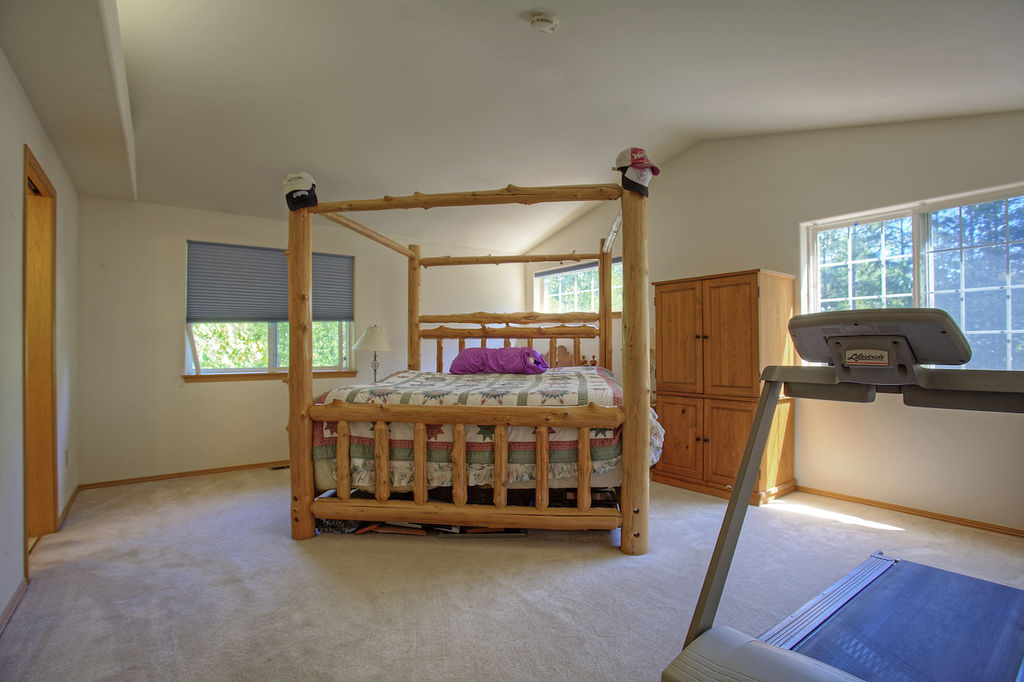 Living in Puyallup
At 2306 34th St SE Puyallup, WA 98374, you're just minutes from a long list of excellent city conveniences. Highway 512 is a quick 8-minute drive from home, and both the Puyallup and Sumner Train Stations are about an 8-minute drive from home as well, making it easy to commute to work on the Sounder Train! When it's time to run errands, Meridian is just minutes from home, providing access to the South Hill Mall and several other restaurants, shops, and services.
Interested in learning more about this listing? Contact REALTOR® Erin Dobrinski online here or give her a call/text at (253) 380-7702.